A Community Garden in Carmel ~ 2004
A new community garden in Carmel was officially opened by Gerallt Pennant, of S4C's Clwb Garddio, at the weekend.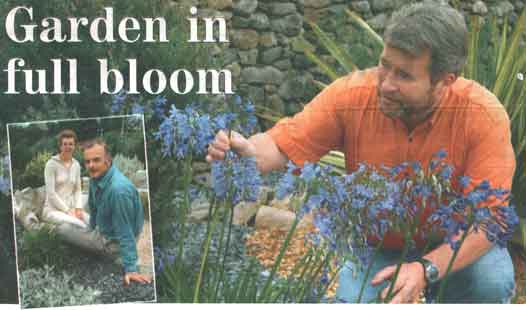 Image: Gerallt Pennant of S4C's Clwb Garddio at the launch of the garden. Inset are Alan and Lynne Patterson who were mainsprings for the scheme.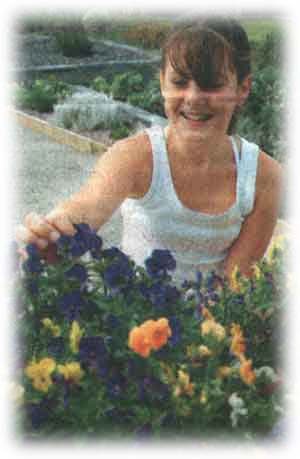 Five years ago, Pwyllgor Pentref Carmel was formed with the aim of finding ways to improve and regenerate the local community through finding grant funding to support major developments, and local fundraising to realise smaller projects. The main emphasis was getting members of the community to work together to achieve a common goal. And last Saturday, Gardd y Coleg, the Tan-y-Ffordd Community Park Project, was officially opened.
Image: 10 year old Caryl Angharad Roberts admires the flowers at the newly opened garden.
The new garden includes wheelchair-friendly footpaths, native and ornamental plants, benches and picnic tables, a border of vegetables planted by school children, a notice board highlighting community events and an environmentally friendly car parking area.
Lynn Patterson, the group's secretary, said:
"We started work on the site in April 2002, and people have been very good, we couldn't have done it without the volunteers. The opening went very well. Between 150 and 200 people were there, which is quite a good turnout, and Hywel Williams MP and Alun Ffred Jones AM were there. I would like to thank everybody who took part and contributed. We had a little exhibition on the day with the list of all the sponsors and all the 70 volunteers who took part. It is open now all the time and people are welcome to go there and see the place and enjoy themselves. I hope it will be used."
Image: Daniel and Gethin inspect salad plants sown by their school friends.
Original story: Caernarfon & Denbigh Herald (South Edition) [02-09-2004]
Written by Helen Harper | Pictures by Gerallt Llewelyn
www.icnorthwales.co.uk