Nantlle Railway
The Nantlle Railway was a Welsh narrow gauge railway built to carry slate from several slate quarries in the Nantlle Valley to the harbour at Caernarfon for export by sea. The line received its Act of Parliament in 1825 and was constructed by Robert Stephenson, the brother of George Stephenson. It opened in 1828 and was operated using horse power. Although built solely for the transport of slate, the line is known to have carried passengers at various times between Caernarfon and Penygroes.
The railway was absorbed into the Carnarvonshire Railway in 1865 and later the London and North Western Railway. The main part of its route, from Caernarfon to Penygroes, was rebuilt in 1867, in places on an adjacent alignment, to single track standard gauge main line standards to allow the operation of the Carnarvonshire Railway's steam hauled trains through to Afon Wen. The lower valley section from Penygroes to Talysarn (where transhipment yards were laid out) was converted to standard gauge in 1872. The remainder of the line continued in use as a horse drawn tramway linking Talysarn with several local quarries, and was operated as such by the LNWR. From 1923 it was operated by the London Midland and Scottish Railway and from 1948 until 1963 by British Railways as far as the Pen-yr-Orsedd quarry. It is the last recorded use of horses by BR.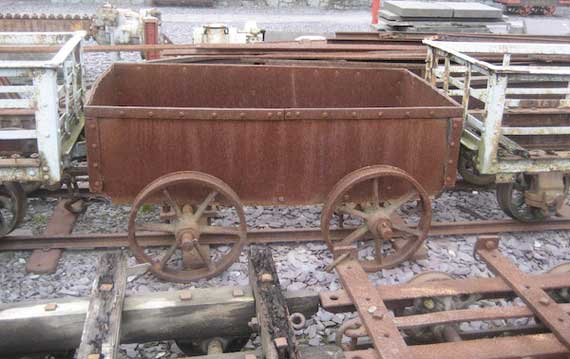 Image: One of the Nantlle tramway wagons (preserved at the Welsh Slate Museum, Llanberis).
The narrow gauge line was a form of wagonway constructed to a gauge of 3ft 6in and equipped with four wheeled wagons fitted with double-flanged wheels, which were loose on fixed axles. The wagons were owned by the tramway, rather than the quarries and the many that survived into BR ownership had narrow steel plate bodies, which were mounted between the wheels and bolted to the axles.
Useful links
»» The Welsh Highland Railway Project - official reconstruction site

»» Rebuilding The Welsh Highland Railway - an independent site