The Story of Hugh Hughes of Nasareth
This is a copy of an article recently submitted to Ninnau the Welsh newspaper in North America in 1993 by John A. Jones, and Joan L. Jones of Granville. Our thanks to them for allowing us to publish the article.
John A. Jones runs the slate valley museum in Granville and has a keen interest in Welsh connections with the Granville mining history.
Slate production began in earnest in this valley in the 1850s, bringing many Welsh workers to the area for the period 1853 - early 1900s. This valley abounds in their history. The quarries brought many other immigrants as well, making for a real melting-pot of cultures. For more information go to www.slatevalleymuseum.org

- the website is well worth a visit.
Hugh W. Hughes; "Slate King of America"
One cannot help but notice the large granite monument to Hugh W. Hughes which stands in a prominent place in the Elmwood Cemetery in Middle Granville, New York. Such was the case when Arturo Roberts of the American newspaper for Welsh Ex-patriots ' Ninnau' made a recent visit to the area.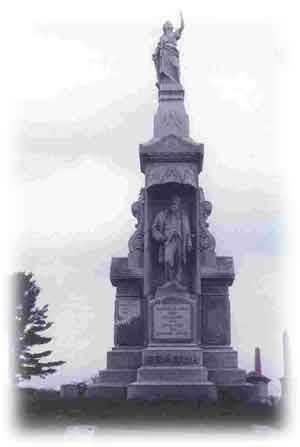 Arturo's questions prompted Joan L. Jones to look up information on Mr. Hughes referred to as "The Slate King of America", not only locally, but also in Americans from Wales by Edward G. Hartman. The History of Washington County 1737 - 1878 states that " his shipments in 1876 were twenty three thousand squares of roofing - slate" enough to be called the "Slate King!"
On that monument which overlooks the valley it states that he was born December 25th 1836 at Trion Pilyn '(Tirion Pelyn, Plwyf Llanllyfni, Caernarfon, North Wales is the correct address!)
The files of the Granville Sentinel, which are contained on microfilm at the Pember Library in Granville, yielded the following information exerpted from the Main Street columns of Morris Rote-Rosen, who wrote about many prominent and not-so-prominent citizens of the slate valley.
He was one of nine children, and 21 years of age when he arrived in the United States. His wealth was no more than $5, with which he made his way to Dolgeville, Wisconsin, where he first found employment in the lead mines.
When he learned of a growing Welsh settlement in the Mettowee Valley, he decided to return east. In 1859 he arrived at Scotch Hill, Fair Haven, Vermont, having heard about the slate quarries which were more to the liking of a Welshman, as his native Plwyf Llanllyfni in Dyffryn Nantlle was a major slate mining area. He found employment at Vermont and later in nearby Hampton, New York, on the New York side of the Slate Valley (which this area is now commonly called).
In 1865, through frugal living, he had managed to open a quarry in Fair Haven, Vermont, which he sold a few years later at a profit of $400. With this 'stake' he then moved to Granville, New York, and leased a quarry in Hampton, a few miles north on the north side of the New York veins. When this proved profitable, he then invested in another slate quarry on the Whiting property, across the state line in Vermont.
Good fortune continued to be his and he opened added quarries in the town of Pawlet, Vermont, selling several more at a good profit. He owned several good slate quarries both in Granville, New York, and in West Pawlet, Vermont, and became a leader in the business community.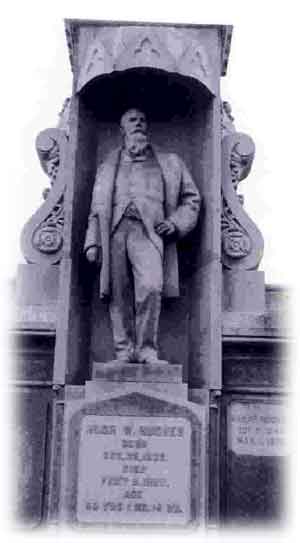 He purchased a home which was the show place of Granville. It stood on the side of the present Pember Library and Museum, for which he paid $7,000, the largest sum paid for a home in the area at that time. He added expensive furniture as well as paintings and antiques from his native Wales which made his home the 'show-place, of the whole area.
He manufactured slate on such a large scale as to dispose of 43,000 squares from his own quarries, as well as 14,000 of sea green slate that he purchased from other quarry operators, and an additional 2,200 squares of red slate.
In 1875 he helped found the Granville National Bank, the first in the village of Granville. Two years later he was made president, an office he held until his death. He was a leader in local politics, and a member of the Republican County Committee. He was also a director of the Salem National Bank in Salem, New York.
At his death in 1890, he left an estate valued at $125,000 and a $15,000 insurance policy. The fortune that he accumulated was remarkable for two reasons, according to Mr. Rote-Rosen.
One is that the average cost to produce a square of slate in the 1800s was about $2.00 and the average low selling price of sea green slate was then from $4.00 to $4.25 per square.
The second reason is that he never attended school when a boy in Wales as he was forced to work for a living. He went through life without having been able to read or write in any language. He only knew how to sign his name.
Dyffryn Nantlle is a traditional slate quarrying area, although the quarries are now closed, the Valley remains a Welsh language stronghold, with very close communities.
Hugh W. Hughes and hundreds of young men left the valley during the nineteenth century to escape having to work in the slate quarries, owned by rich English landowners and speculators. Families sent their children to work the quarries at a very early age, and as in Hugh W. Hughes case, the only education available to them was the Welsh Sunday School.
by O.P Hughes