The Smallholdings of Rhoslas, Nebo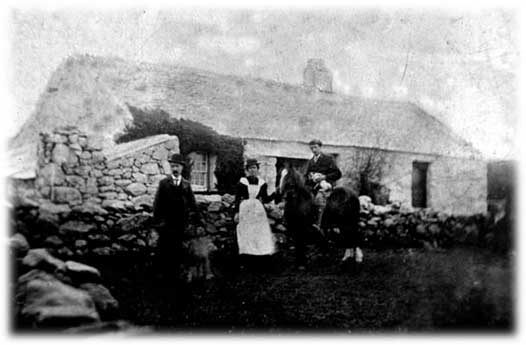 Image: William Pritchard and wife Rachel Jones standing outside Neuadd ddu cottage.
During the 19th century, small farms were established on Rhoslas, chiefly because of the development of the quarries in Dyffryn Nantlle. Compared to the slate village Llanllyfni with it's ribbon development of terraces along the road, it is obvious how different Rhoslas is. The men would cheifly work in the quarries, but they had the opportunity to keep livestock and grow crops which gave them a better standard of living than those who lived in houses without land. It was a scattered community, of a type very common in Wales. In Scotland they are called 'Townships', that is to say: not nuclear villages.
A valuable description of the crofter's life is to be found in Atgofion Mab y Mynydd, by Mathonwy Huws (Gwasg Gee 1982). He was born in Bryn Llidiart, Rhoslas. One may also see documents in the Archives, Caernarfon by W R Williams, Harri Wyn Williams and others. A series of their articles were published in the local Welsh language newspaper, Lleu, during 1986-1987 and 1990- 1991. These may be seen in the Public Library, Penygroes.
Dr R Alun Roberts, scientist, naturalist and broadcaster was born in Glan y Gors, Rhoslas. His recollections are to be found in Hafodydd Brithion and in Darlith Flynyddol Llyfrgell Penygroes 1968 (The Annual Library lecture 1968 - a very rare booklet). His history of agriculture in this area is given in English in the wholly inappropriately named Welsh Home Spun (1930).
The works of Kate Roberts, who was brought up in a very similar area in Rhosgadfan, should be read. Many are now available in English and other languages.
Concerned over the health of the nation, powers were given to the County Councils by Parliament to improve the people's health. It is said that the highest incidence of tuberculosis in Wales was in Nebo. Although the condition of the houses did not in themselves cause T.B., damp was no good for anyone, and if too many people lived in the same house, then certainly the disease would spread quickly. The Campaign to Overcome Tuberculosis began in 1910 and one of it's chief supporters was the teacher and minister Silyn Roberts 1871-1930. (He was also born in Bryn Llidiart, Rhoslas - an uncle to Mathonwy Huws). T.B. was not completely controlled until the discovery of X-rays and anti-biotics.
Local authorities were allowed to build council houses with all the necessary amenities. A substantial number of crofters, some with large families, were more than content with such an offer. Council houses were built in Nebo in 1933 and 1951.
Most of the quarries were closed before the Second World War 1939.-1945. If an unemployed person had a patch of land, a cow, a pig or sheep, it would be impossible to claim the dole, even if their income was very small - a great number moved from the land because of these severe rules. Because there were so few jobs available in the county, many went to the South (Wales), to England and some even went overseas. A whole community was dispersed - most of the houses lay empty. The stone walls collapsed - there was no need for the farmers to repair them, and their flocks roamed across the land.
During the 20th century, some of the houses (usually without their land) were sold for a few hundred pounds, chiefly to new-comers or as weekend cottages. About half of the old cottages of Rhoslas (11 in all) remain as ruins.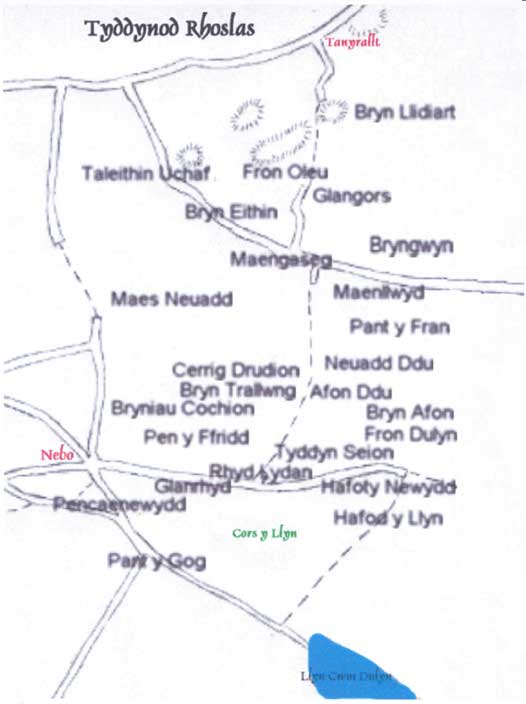 Past inhabitants of Neuadd Ddu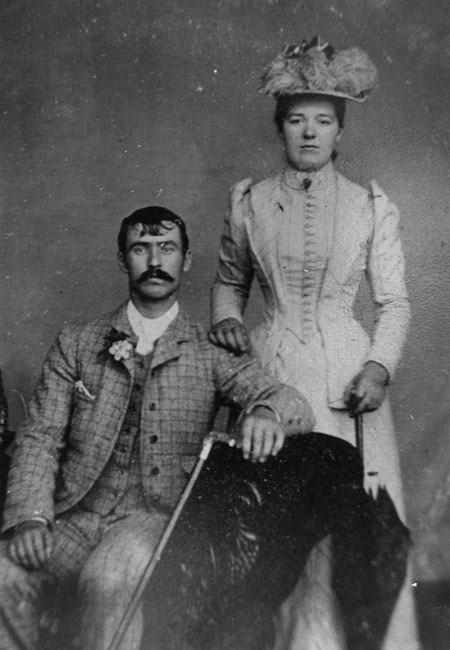 Image: William Pritchard and Rachel Jones' wedding photograph.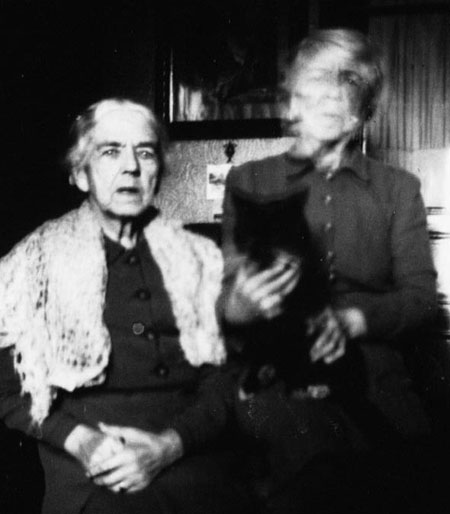 Image: Rachel Pritchard and her sister Jane Jones, 1946.
Thanks to Barbara Seaton for the photographs