Ty'n y Fawnog ~ April 2006
by David Tudor Owen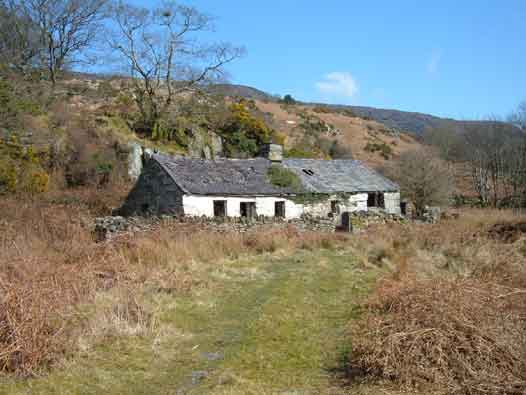 Image: Ty'n y Fawnog.
Out on the edge of Talysarn is a derelict farmhouse called Ty'n y Fawnog, inhabited only by sheep and accessible only on foot. This house was home to at least one 19th century family who lived hard lives sustained by devout Methodism.
Robert Owen, quarryman and farmer, and his wife Catherine, lived in Ty'n y Fawnog with their five sons, from about 1822 up to her death, in about 1842. Robert then remarried and emigrated to America, along with the two youngest boys in 1843. Growing up in Ty'n y Fawnog in the 1820s and 30s, the boys did not have daily education, and had to start work in the slate quarries as soon as they were old enough. The family did have a servant so were obviously not poverty stricken.
One of the daughters of the notable Methodist minister the Rev. John Jones is quoted in a book published in 1907 (Biography and Sermons of Rev. Robert Owen by the Rev. John Owen published by Hugh Evans, Liverpool 1907). She describes Ty'n y Fawnog as a "little small-holding, on the side of Cilgwyn Mountain, the western side of Talysarn". She said, "I don't know of one house in the district that I liked going to as a child more than Ty'n y Fawnog. I have been there scores of times. An old plain house, a low door to go into, and two windows each side of it, and the cowshed under the same roof. It had been built on a spot under the shadow of the hills that were nearby, on a field of peat."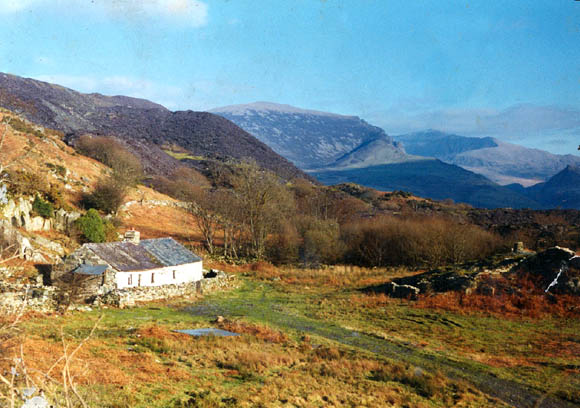 Image: Ty'n y Fawnog on a glorious day.
The family were devout Methodists, and worked hard. Early in the morning, the boys would see to the cattle before eating their breakfast by candlelight. A fervent prayer from their father for God to take care of them all, and then the boys would set off with him to his work in the quarry, "with his dinner and the children's in a clean wooden basket and with milk in a can or in a sparkling clean pitcher." The father ran temperance classes and youth activities in the chapel. He was well known for 'clouting boys' who misbehaved. The family risked their lives regularly to get to chapel; they had to "go along the most intricate route, past one of the deepest quarry pits of the district at that time, and they had to do this with a lantern on dark nights, to cross the pile of rubble to arrive at the place of worship." These days, the path steers well clear of the flooded quarry below the house.
One son – Hugh – died in a quarry accident, but the two sons who stayed in Talysarn when their father emigrated did well for themselves. Owen Rogers became a quarry manager and flour merchant, and Robert was to become a well-known Calvinist Methodist preacher - the Rev. Robert Owen (Tŷ Draw). They were both still living in Ty'n y Fawnog at the time of the census in 1851, but by 1861, the Owen family had moved out, replaced by David and Anne Williams and their three daughters, who were living and farming the 28 acres of Ty'n Fawnog. By 1871, Catherine Rowlands and her sons, Richard and John, and a lodger, Robert Roberts had taken over the house and the Rowlands' family remained in it until at least 1911.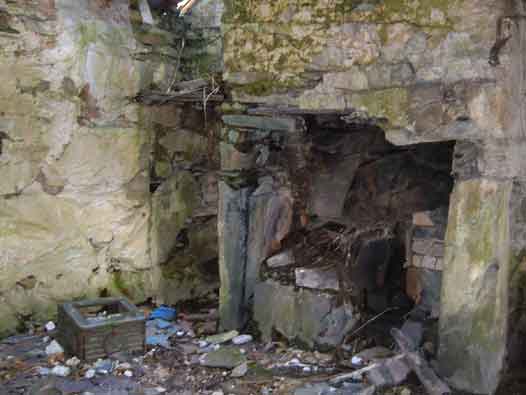 Image: The derelict fireplace at Ty'n y Fawnog.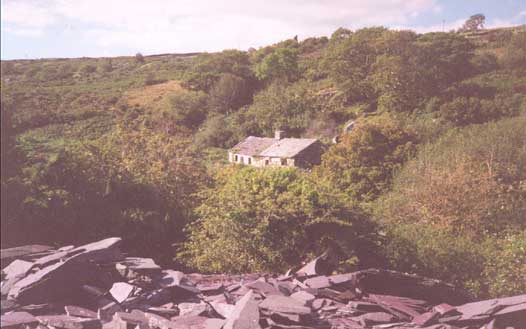 Image: Ty'n y Fawnog from afar.
With thanks to Mrs Jones of 3 Station Road, Talysarn