Talysarn Ward Bulletin
July – September 2006
Congratulations Pen yr Orsedd
During August Pen yr Orsedd quarry was in the news as they competed in the Restoration Village programme on BBC2 to be the ones to represent Wales in the final round of the competition. Tirwedd Cyf is the company behind the venture of trying to restore the old workshops in the quarry to establish a School of Engineering and workshops which will offer quality training and work to local people. Tirwedd Cyf is a 'not for profit' company and it is backed by the quarry's owners McAlpine as well as Gwynedd Council and the University of Wales, Bangor. It was a big night in Llys Llywelyn, Nantlle, when a representative of the Restoration Village Programme announced that Pen yr Orsedd had won the Welsh round and that they would be going to Chichester for the final.
Tirwedd Cyf.'s chairman, T. Leslie Jones, relates what happened next: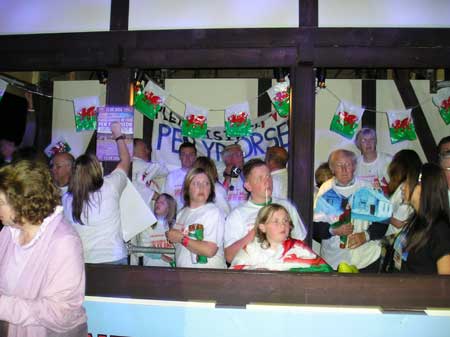 Sunday morning September 17th some 30 people from Dyffryn Nantlle went to Chichester to support the Tirwedd Cyf project to restore the old buildings in Pen yr Orsedd quarry. It was a long journey to Chichester, but everyone was enjoying themselves singing and having fun, and we arrived in good time. After going to the hotel, we went on to where the programme was to be broadcast and had a meal. We were sat near to where the competitors from Northern Ireland were, and the singing competition between the Welsh and Irish could be heard all over the place!
There were competitors from Scotland and Northern and Southern England, and the noise during the programme was deafening. But, the result was very disappointing although we had put up a brave fight and, according to one of the programme's representatives, we were ahead for a long period and he was surprised that we had not won. Though we had not been successful, our spirits were still high and we ended with a rousing evening raising the roof of the hotel with our singing. Is a good job the Irish were not staying in the same place or God knows when we would have got to our beds!
Tirwedd Cyf.'s committee are very grateful to everyone for their support throughout this period, and also to the Talysarn and Nantlle for their financial support. Thanks also to Antur Nantlle for arranging for the hoardings to be made and for paying for them, thanks also to Gwynne and Dafydd Glyn for putting them up. The support is still very strong with many people calling wanting to see the buildings and site, which is very heartening to us. We intend to press ahead with our plans and we will let you know how things develop.
On behalf of Tirwedd Cyf., thanks to everyone for their support and interest.
T. Leslie Jones
Restoration Village Photo Gallery (click to enlarge and scroll through images)
Crime and Safe Community Sub-group
This group has been formed in order to gather information and to act on matters of crime and keeping the community safe under the auspices of the Talysarn and Nantlle Partnership. The intention is to create a network between the local community and agencies which offer their services on matters of security and to co-operate in order to stop the challenge our community faces. Their first step will be to hold an Open Day in order to create awareness, this will happen shortly, so keep a lookout for the posters on the notice boards.
Anyone who is interested in joining the group should contact Dafydd in the Partnership Office 01286 881103.
Talysarn Youth Club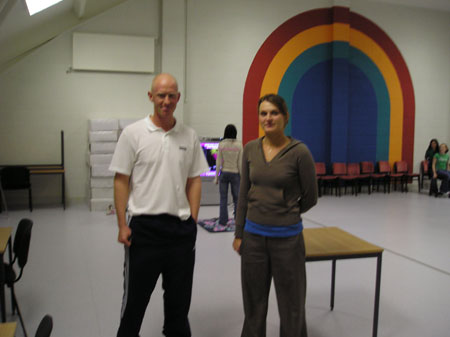 Gwynedd Council in co-operation with the Partnership have opened a Youth Club in Canolfan Talysarn. This follows work done by the Workers with young people under the Developing Young People's Potential Plan in the Communities First Programme. One of the priorities to emerge from the consultation sessions with young people was the need to establish a Youth Club and, after much consultation between the workers and Gwynedd Council, the club has now opened. It will be open every Monday a Wednesday night from 7 – 9.
Talysarn Celts FC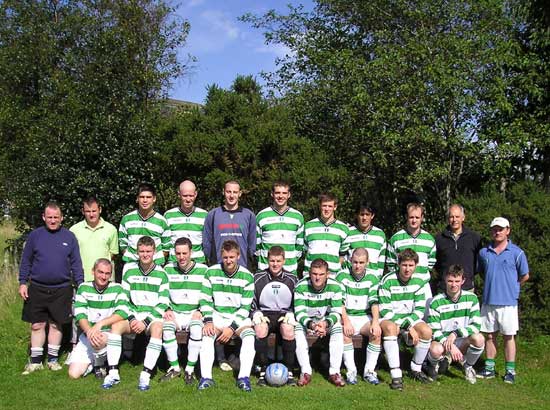 The Celts have made a very good start to the season. With Ali Thomas as manager and keeping faith with the area's young players, this augers well for the future. Only one game has been lost so far by the team, and this was, so they say because Ali was on holiday. The message therefore is – no more holidays Ali! The Celts are very thankful to the Communities First Trust Fund for it's support in buying new kit.
Clwb yr Iard
A Fun Day was held during the holidays by the Club in Llys Llywelyn, Nantlle. Despite the weather everyone had fun and enjoyed taking part in the Craft Workshops, playing games and being entertained by the clown. Because of the success of the Bingo Evening which was held recently by the club, there is great demand for a continuation. Another evening will be arranged early in November.
Planning for Real
A group of local people and some Partnership members are busy building a model of the area. This work involves working with the local schools and getting the children to take part.. Once the model is completed, a consultation day will be held in Talysarn and Nantlle to give the whole community a chance to participate. During these two days anyone can add recommendations i.e. the improvements they would like that would improve the community. This will be done by placing cards with appropriate remarks on the model. After holding these meetings all the recommendations will be sorted and prioritised in order to produce an Action Plan for the community. It's important that everyone is involved.
Talysarn Community Centre – Yr Hen Orsaf
After opening its doors in April this year, it is starting to get busy around the Centre. The committee has appointed two local people to arrange activities – Carys Pritchard and Helen Hall. With the Centre offering a wide range of services to the community from hiring meeting rooms, workshops like Yoga, Bingo, Concerts, Parties and so on, there is no better chance to take part in the developments taking place in our community. The Centre has a menu to suit all tastes, for a large part or small groups.
For more information contact:
• Carys 07902319700
• Helen 07902316661
• The Centre 01286 881569
Blodeuwedd
One of the activities the group have been responsible for during the summer is placing a bench outside the Talysarn Community Centre, and tending the flowers and plants which have been well worth seeing around the area. According to some people Tom and Laurie took hours to drill holes to fix the bench to the ground, without realizing that the drill was set in reverse. When the drill was adjusted to go forward, they took only a few minutes to complete the job! Thanks to the support Communities First Trust Fund money was obtained to buy tables and chairs. These will be a great help when holding the monthly Afternoon Teas in Talysarn and Nantlle.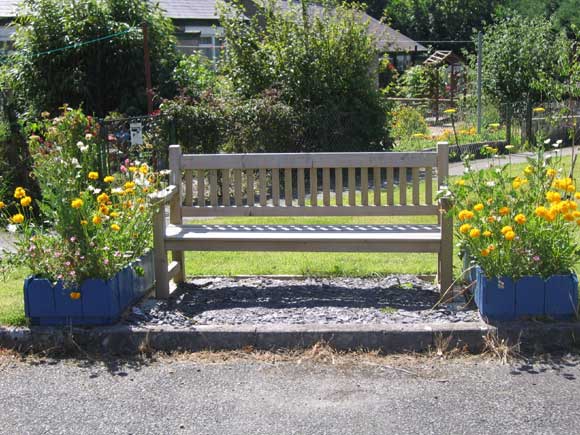 Dates of the next Afternoon Teas are:
• Wednesday 15 November Talysarn Community Centre
• Wednesday 13 December Llys Llywelyn Nantlle.
A cuppa can be had between 2.00 and 4.00 o'clock, and also a chance to buy the group's home produce.
For more information phone:
• Tom 01286 882345
• June 01286 882740
• Margaret 01286 880733
Clwb Silyn
Clwb Silyn have had another good few months. In July we had a day trip to Wrexham to see the historic town and visit the market. We then had our summer break in August and in September started off with Tea and a Chat whilst discussing forthcoming events. We are looking forward to a Bingo Afternoon in October which is always a success with our members. Clwb Silyn are also sponsoring what we hope will become an annual event in our lovely new Canolfan – The Village Panto! We have had a local Cinderella story especially written for us and the cast are busy with rehearsals for the pantomime to be held after Christmas festivities. Some members of the Clwb have starring roles along with people from other community groups and plenty of village children, so we look forward to your support – see you then.
Simply Creative Hobbies Club
Simply Creative Hobbies Club meets in Llys Llywelyn, Nantlle, every other Wednesday 10.30 to 12.30. They would be pleased to welcome anyone who would like to join them. They have just been successful in securing a grant from the Gwraidd Programme to make a wall hanging which will hang in Llys Llywelyn, so the last few meetings have been spent taking photographs and planning. We had a trip to Llanberis to look at a hanging there to give us ideas and have talked to lots of people in the village to get ideas as we are hoping to depict the village past, present and future. We have been fortunate to secure the help of Hazel Carpenter and she has been a great help with her knowledge and enthusiasm.
November 25th there will be a Christmas and Craft Fair in Llys Llywelyn and we would love to see you there.
Talysarn and Nantlle Environment Group
Just how important the history and heritage of Dyffryn Nantlle are to the local community, and beyond, demonstrated in September when an assorted group of 50 people set out for a guided walk around Dorothea quarry. The walk was led by Dr Gwynfor Pierce Jones, local expert and industrial archaeologist who, after a lifetime's interest, used Dorothea as the subject of his academic thesis. First we were given a brief overview of the quarry's history from the earliest hand workings until the final switching off of the pumps in 1969. Then our attention was turned to the remains of the quarry buildings. Gwynfor explained their construction, purpose and importance, in particular the Cornish Beam Engine House, the big mill and the "pyramids", all of which are Scheduled Ancient Monuments. The pyramids are in fact unique while the great beam engine is of national significance. But equally unique, and of local significance, is the human details which colour Gwynfor's individual presentation, so that we also know which were the quarrymen's preferred toilets (out of view of the office!) and that the carpet in the mansion hallway was a green Axminster. The inheritance of the slate industry is fundamental to the local community and the site is full of archaeology. A memorable sunny September morning. The environment Group is hoping to make available a (very amateur) video of the event – watch for announcements. New members always welcome.
Talysarn & Nantlle Young People
The young people's 'Talk Shop' will be open between 7 and 9pm every Thursday evening at the Talysarn Community Centre. Call in for a chat and some fun. An opportunity for you to have your say and to improve things for the young people of the area.
Llys Llywelyn, Nantlle
The past three months have been very busy in Llys Llywelyn, Nantlle, with a great many activities every week. There was an Exhibition showing what the plans by Tirwedd were to develop the workshops in Pen yr Orsedd quarry, and the highlight was the evening when the Restoration Village representative announced that Pen yr Orsedd had won the competition in Wales!
A Coffee Morning is held every Friday between 10.30am and 12.00pm and a number of former Nantlle people come from far and wide, as well as some present Nantlle residents, to enjoy a cuppa and a good natter. On the second Friday of each month there is also a Llys Llywelyn Library which is very popular. The Leisuretime Hobbies Club meets every other Wednesday between 10.30am and 12.30pm, and on the second Saturday of each month an Indoor Table Top Sale is held, which attracts people from a wide area. Blodeuwedd also hold an Afternoon Tea and Plant Sale every other month and it is very successful.
Coleg Harlech use the centre's facilities to hold a number of courses such as Computers for Beginners, Digital Photography, Venturing in Welsh, Art for All and Welsh for Parents, and it is hoped that more courses will be added during the winter. Lynn R Papercrafts also hold classes on various aspects of making greetings cards and suchlike.
Every Monday evening Clwb yr Iard meet to give children under 16 a chance to have some fun and enjoy themselves. They also held a Fun Day which started very wet, but by the afternoon it brightened up and everyone enjoyed themselves. The highlight was a Bingo Night which they held to raise funds, when everyone had a barrowful of fun and laughter. A number of Birthday Parties have been held in Llys Llywelyn over the past months, and remember you can hire the centre for a very reasonable cost to hold all kinds of things like this.
During the coming weeks the Llys Llywelyn Grand Christmas Raffle will be launched, and a Christmas and Craft Fair will be held on Saturday 25 November between 10.30am and 3.30pm. You can book a table for £5 (they are filling up fast – phone Sally on 882511 to make a reservation). It's a chance to raise funds for your organization, but remember only goods related to Christmas or Craft work can be sold – no bric-a-brac.
Antur Nantlle Cyf
Antur Nantlle are pleased to have been associated with the Talysarn and Nantlle Partnership for over three years now and taken part in the development of the Communities First Programme in the area.. We look forward to continuing to shoulder the responsibilities of the Accountable Body in the future.
Developing the community of Dyffryn Nantlle is one of Antur Nantlle's main objectives and seeing the successes of local groups such as the Community Centre Committee and Llys Llywelyn is very encouraging and deserves our praise.
Antur Nantlle have recently set up a Dyffryn Nantlle Tourism Group and we are grateful to the Partnership and Gwynedd Council for supporting our bid for grant funding to commission a Tourism Report in the Nantlle Valley. The work was undertaken by Geraint Thomas, originally from Nantlle and Owain Rowlands from Penygroes and we thank them for their hard work in preparing the Report. A special event will take place in the near future to launch the Report. The arrangements will be advertised locally so that everyone will know what is going on. If anyone is interested in the Tourism Group please contact Dafydd or Beryl in our office on 01286 882688 or leave your details with Dafydd and Wena in the Partnership Office in Talysarn or Nantlle.
The success of the Pen-yr-Orsedd project on the Restoration Village programme caused a lot of excitement. The whole community stood together behind the project and everyone got involved in the fun and drama of it all. Pulling together as a community brings benefits and means things can happen. We wish Tirwedd and the Pen-yr-Orsedd project every success in the future. Antur Nantlle congratulate everyone involved and we would be pleased to offer our assistance, in any way we can, in the future.
For more information about the work of Antur Nantlle, please contact us:
CANOLFAN DECHNOLEG ANTUR NANTLLE
20 Heol y Dwr, Penygroes Gwynedd LL54 6LR
01286 882688
The Official Nantlle Valley Website
The www.nantlle.com group had a break over the summer holidays but by now are back in full swing.. During the summer months we had a variety of enquiries on the 'Messageboard'. Maybe someone from Talysarn and Nantlle have some on the answers:
• A gentleman form Fort William would like to know if anyone remembers his mother - Katherine Mary Parry who was born in South Wales but moved to Talysarn and attended the primary school around 1925. Also his grandfather Thomas Ellis Parry who lived in Ty'n y Weirglodd. And played the trombone in the band
• Paul is looking for information about Coed Madog Quarry
• Tracy Jones wants information about her great grandmother - Mary Corwenna Jones and her grandfather Thomas Owen Hughes who was born in 'Cloth Hall'in 1915.
• Paul Samuels is interest in leaning about the life of Llywelyn ap Gruffydd and wants to know the exact location of the battlefield of Bryn Derwen / Moel Derwen
• Glenys form Liverpool wanted to know if Bron Eryri Terrace is still standing in Llandwrog. And does anyone have information about Cae Haidd and Llys Twrog.
• Austin Voorsanger'r grandson would like information about the Austin Hopkinson factory in Penygroes. Does anyone have any old photos of the factory?
The main purpose of the Messageboard is of course to get people to talk to one another and there are a a number of topics under discussion on the site. Many showed an interest in the Pen-yr-Orsedd Restoration project with 145 people taking an interest or discussing the subject. There was even one complaint from someone who tried several times to vote but without success because he could not get through!
During the three months of July, August and September we had almost 9,000 visitors to the site. What better reason for our local businesses to include their details on the website (free of charge) – a chance to spread the word if you are running a business in the area. Contact us by:
• Phone us on 01286 882688
• Visit www.nantlle.com and click on 'Businesses' and fill in the registration form
• Send an e-mail to post@nantlle.com
We are still looking for old photos of the area and interesting stories. We also want to know what is happening now– if you are a member of a club, group or society, please send your programme for the winter to us or tell us about your activities. The Llys Llywelyn group bring us their weekly programme which is posted on the website so that everyone can see what is happening in Nantlle.
Young people of Talysarn a Nantlle – what would you like to see on the website – would you like members of the website group to come and talk to you?? We want your views about our website. – please let us know.
We would like to thank everyone who has already contributed – keep sending your information. We look forward to receiving new contributions so that we can keep on developing post@nantlle.com with your help.
Trigonos
This has been a very good year for Llysiau Lleu, with a wide variety of fruit and vegetables available from late spring with the expectation of continuing into the winter months. Now in its fourth year, Llysiau Lleu provides over 20 local families with a weekly bag of vegetables, all of which are grown at Trigonos with a supplement of potatoes from Pant Eithinog Farm. An ever increasing number of people are asking to join the scheme, many of whom already buy produce regularly from 'farm gate' sales at Trigonos.
People are glad to be able to buy their vegetables in their home locality. They recognise the freshness, flavour and quality that this allows and appreciate the fact that neither pesticides nor chemical fertilisers are used in their cultivation.
Band Dyffryn Nantlle
The Royal Nantlle Vale Silver Band has been busy performing and rehearsing over recent months. Back in July, their annual concert was held at Ysgol Dyffryn Nantlle school hall, where the band played modern and contemporary music, accompanied by the Dyffryn Nantlle Male Voice Choir as well as a local folk band for an evening's entertainment of varied music that was enjoyed by all who attended. Currently the band members are rehearsing for two major competitions, Pontins in Prestatyn on the 4th November and the North Wales Rally tournament on the 18th November. The band will be competing at senior and intermediate levels. Following these events the band will then plan their annual 'Christmas Tour' performing carols for the local community as well as for Christmas shoppers outside Tesco stores. During this festive build up period, the band will also play at the Porthmadog 'Lighting the Christmas Tree' parade (25th November) an event in which they have participated regularly in recent years. On the 16th December a section of the band will perform in the annual Christmas Concert at the Memorial Hall in Penygroes, supporting music students of Yvonne Clark. The band continues to require new members, beginners and experienced players, and anyone interested should contact the bandmaster Gareth Williams on 01286 882269.
Housing For Local People
After nearly three years the Dyffryn Nantlle Community Land Trust intends to move forward early in 2007 to develop houses for local people on part of the Gloddfa Glai site in Talysarn.
The site is the property of Gwynedd Council and has been noted in the Uniteray Programme for the housing open market.
The most recent housing survey was done in 2004/5 with the results showing clearly that local people were finding it hard competing in the housing open market. Following the results of the survey the Community Land Trust has set up a local partnership in order to discuss the development of the Gloddfa Glai site. The Talysarn and Nantlle Partnership in Talysarn and Nantlle is one to these partnerships.
The intention is to prepare a variety of high standard houses, under the Community Land Trusts Agreement, which will ensure that the houses that are built will remain affordable forever and available to local people only.