A History of the Scotch Baptists in Lanllyfni and the Cheese and Bread cemetery
Few people who pass through Llanllyfni today are aware that the small enclosed parcel of land tucked behind a high wall in the centre of the village has played such an important part in Welsh religious history.
Ty'Lon Chapel and it's cemetery was central in the development of the Scotch Baptist movement in North Wales. Ty'Lon Chapel was built in 1790, and was described by Owen Davies Arthog as "a comfortable little place, with it's earth floor covered by a carpet of straw, with coffin plates adorning the walls". There are no visual remains of the Chapel in the cemetery today, and the writer would be pleased to hear if anyone has information regarding the exact location of this little but important chapel.
It's thought that the Baptists were established in Llanllyfni as early as 1787, and that Ty'Lon Chapel was originally dedicated to their cause.
A simple slate head stone in the cemetery is inscribed "Here lyeth the body of Catherine Jones, she departed this world July 1700 aged 83. Also Madeline Rog Died March 1729 aged 61" - proof that the ground was used for burials long before 1787.
The small chapel increased considerably in importance as a place of worship when it later became a meeting place for the break away Scotch Baptists following a major break up in 1798. It's worshippers were known as Bread and Cheese Baptists, because of the long distances they often travelled to worship bringing with them their own food, mainly bread and cheese. The cemetery was in turn known in Welsh, as it still is today, as "Fynwent Bara Chaws."
Subsequently, before the end of 1800 the Baptist Cause was split in Llanllyfni, as it was through the greater part of North Wales, due to the actions and theological beliefs professed by the Rev. John Richard Jones, of Ramoth in the parish of Llanfrothen.
The Reverend J.R. Jones was a very learned gentleman, able to converse in several languages, a preacher and an eminent theologian, he was an unyielding exponent of certain beliefs that other members of his denomination found it difficult to accept.
J.R. Jones embraced the theological teachings of Scotch Baptist Andrew McLean, and in so doing introduced elements of disagreement into the Churches, and serious rifts and splits followed. In 1798 John Jones turned his back on the original Baptists for ever, and established " Scotch Baptists in Gwynedd." There was certain evidence that the Scotch Baptists were already making ground in North Wales before 1798, and by 1807 there were as many as 350 members in places like Harlech, Ffestiniog, and as far away as Rhosllanerchrugog and Glyn Ceiriog, with the Rev. John R. Jones taking charge of all.
In Llanllyfni the minority who disagreed with this new thinking and chose to cling to the old philosophy were forced to leave to hold their meetings in each others houses. Something they continued to do for several years until 1826 when they built their own Chapel ( Moreia) on land near the village at Felin gerrig. This chapel was further extended in 1858.
The small Chapel at Ty'lon grew to be the heart of the Scotch Baptist movement, and in it's heyday the followers came to worship from Harlech, Penrhyndeudraeth, Blaenau Ffestiniog, Trefor, and Caernarfon, arriving in the morning and staying all day. To accommodate worshippers from afar, part of the chapel was closed off to allow room for refreshments. It was customary for friends and neighbours in Llanllyfni to boil water for them, and provide crockery and utensils for their use.
These worshippers were called Sandemaniaid by their enemies, because of similarities in some of their practices to the religious beliefs of Robert Sandeman - numerous elders, communion every Sunday, the love feast, the sacred kiss, the washing of feet etc. All this was fervently denied by John Jones who fiercely opposed the accusations, arguing that Robert Sandeman supported baptising children, a procedure that was contrary to the scriptures.
The cause in Llanllyfni was originally in the care of Edmwnd Ffransis a Caernarfon minister who also officiated in Llanllyfni for a period of 30 years. He died at the age of 63 on 5th of December 1831, and according to the inscription on his gravestone his services to Llanllyfni were provided entirely without wage. During this period the Scotch Baptist flourished, as Harlech and other Merionnydd communities were regarded as the Jerusalem of the Scotch Baptists in North Wales.
Following Edmwnd Ffrancis' death Humphrey Humphreys from Harlech took charge, who later moved to Caernarfon, where he died in 1862 at the age of 27 years. Later a certain young preacher from Blaenau Ffestiniog by the name of John Roberts a stone mason, came to be in charge of the church in Llanllyfni.
In John Roberts biography written by the rev. D. Davies ( Dewi Eden) and published in 1909, he states that the Scotch Baptist had a cause in Llanllyfni, with a Chapel and a cemetery in a very convenient place called Ty'Lon.
Soon after his arrival in Llanllyfni John Roberts married Ellen Williams, daughter of David and Mary Williams of Ynys Farm, Pontllyfni, and they made their home at Cefnfaes Llyn, Llanllyfni.
The Ynys Family were faithful supporters of the Chapel and Cemetery. Many Ynys family members are buried in the cemetery, giving rise to the belief that the Ynys family actually owned the old cemetery, although there is no evidence to support that claim.
By 1836 only 16 followers remained to worship at Ty'lon Chapel, and the reason for that according to John Jones himself was that their religion was far too naïve, and had too many elements of self-denial to attract followers. It was evident that Scotch Baptist was not a popular religion in North Wales by that time.
By 1865 only 3 Scotch Baptists worshipped in Chapel Ty'Lon. William and Marsli Hughes, pro ported to be an honest and Godly couple, and David Jones an eminent herbalist and son of Doctor David Jones a surgeon who lived at Hafod Esgob, Nebo, or Mynydd Llanllyfni ( Llanllyfni mountain ) as it was known at that time.
Sadly by 1836 the Scotch Baptist cause had deteriorated considerably at Ty'lon, and the future looked pretty bleak as the Baptists in the Felin gerrig Chapel flourished under the minister-ship of the popular Robert Jones Llanllyfni. Although reluctant, John Roberts decided that it would be wise to unite with the Baptists in Felin gerrig, bringing the cause at Ty'Lon to an end. He was criticised by some for his decision, but the union went ahead and the Baptist cause at Felin gerrig went from strength to strength.
The Independent cause in Llanllyfni was established with the help of the Rev. William Ambrose of Porthmadog, with the initial members given use of the Baptist Chapel, on condition that the two bodies were to unite in their worship every month or two. The initial sermon was given on the 12 of February 1868 by the Rev. John Davies of Nasareth.
In 1870 the Independents decided to build their own chapel in Llanllyfni, and Morea Chapel was officially opened 1871.
John Roberts accepted a call from the Baptists in Capel y Beirdd, where he remained for years before moving to churches in Llanaelhaearn and Pontllyfni. He finally retired to his wife's family home at Ynys Farm Pontllyfni. His wife Ellen is buried at the Bara Chaws Cemetery, and the inscription on her gravestone describes her as the wife of Y Parch J. Roberts, Ynys, Clynnog. She died in 1892 aged 52, but there is no mention of her husband, and the whereabouts of his grave are not known to the writer.
The Reverend J.R. Jones passed away in 1872, the man who had been so instrumental in establishing the Scotch Baptist movement in North Wales, and subsequently the Scotch Baptists at Ty'Lon, Llanllyfni.
On Thursday 19th of October 1905 a public meeting was held in Groeslon, when it was unanimously agreed to collect contributions, and a target of £30.00 was further agreed on condition that a board be established to take care of the old cemetery, in order to bring the cause to a respectful end. Substantial support was expected from families of loved ones buried at Ty'Lon.
The secretary at that meeting was one William Williams, of 7, Newbrough street, Caernarfon.
According to the minutes in the Caernarfon records office there has not been one contribution or promise recorded.
One very impressive grave is that of a surgeon David Thomas Jones of Hafod Esgob, and his son David Jones an eminent herbalist. David Jones' will states that money has been left to take care of the old cemetery.
The office copy of his will confirmed in 1888, states that "There is a provision whereby the house occupied by the tenant Thomas Jones at Brynsisillt, Llanllyfni at the rent of £3.10.be paid to the trustees, to be applied from the time of death in keeping the grave of myself and family, and also the graveyard of Ty'lon Baptist Church Llanllyfni aforesaid in good repair."
Today a well established elm tree grows through the railings of his grave, and no one knows where the money went, and to date there is still no record of ownership of this piece of land, although many unsuccessful attempts have been made to find the legal owners.
Thanks to Menter Llyfni the village Community Enterprise, and a contribution from the Community Council together with hard work from the Young offenders Probation service the old Cemetery has been tidied up.
The cemetery gate purchased by Menter Llyfni will remain locked, a slate plaque and a notice providing information about the availability of a key in the village will be nearby.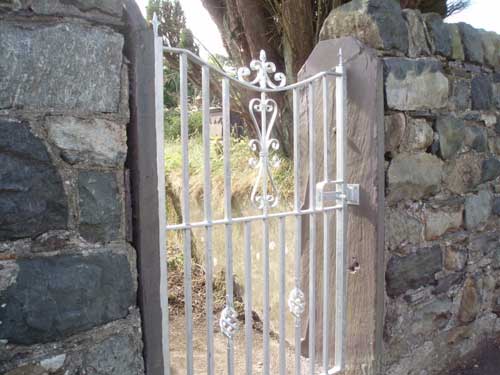 A local group with representatives from Gwynedd, and Llanllyfni Community Council, together with other village representatives will try and keep the undergrowth down on a voluntary basis. Hopefully, if enough volunteers come forward to help, a list of all buried in graves will also be soon compiled and can be seen on this website.
According to Councillor O.P. Huws this piece ground is an important part of Llanllyfni history, and should be remembered for future generations, and respected for all time.
If anyone has any genuine reasons for visiting the cemetery AT THEIR OWN RISK keys are available from the following local telephone contacts:
01286 881139
01286 881176
01286 880573
O.P. Huws, May 2013
For more information phone 01286 881176