Mathonwy Hughes ~ 1901-1999
One of the Lads of Dyffryn Nantlle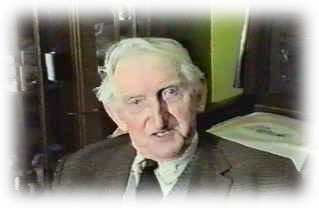 He was born an only child in Bryn Llidiart, a house at the foot of Cwm Silyn, which had been home to three generations and produced two National Eisteddfod winners. It was a smallholding of three acres and a cow when Mathonwy was a child. No one else occupied Bryn Llidiart after they left. Time was the only tenant thereafter and the mountain reclaimed its property across the years.
Image: Mathonwy Hughes.
His early education began at Nebo School when he was seven years old, but he was not a healthy child and suffered serious illness. Because of his condition he missed the opportunity to attend the County School in Penygroes, but instead went to the school in Clynnog.
He would walk through three miles of moorland in all weathers to reach the school, carrying his dinner-time sandwiches with him. Then, Nebo was a complete school, up to standard seven.
Mathonwy had a happy time under the supervision of the headmaster T.H. Griffith who also kept a shop. Although the headmaster was a fluent Welsh-speaker, English was the language of school. Mathonwy could not understand how it could be that Mr Griffith spoke Welsh to his mother when they went to the shop together, and yet everything the headmaster said to the children in school was in English.
Mathonwy was a staunch member of Tanyrallt Chapel, where a notable literary meeting would be held, with competitors travelling from afar to take part, and this on Christmas Day. Two dates were important to a child of that period: Llanllyfni Fair on 6th July (St Rhedyw's Day) and the Tanyrallt Chapel Literary Meeting on Christmas Day.
War came and Mathonwy was determined not to join the army, for he could not imagine himself killing anyone, and, in his own words, he was too much of a coward to be a conscientious objector; therefore he joined the Civil Service, and after the war he was invited by Gwasg Gee to become sub-editor of the newspaper 'Y Faner', an offer he gladly accepted.
His uncle, Silyn Roberts was a pioneer, and as one of the founders of the Workers Educational Association, he offered teaching work to Mathonwy. He was a W.E.A. teacher in Denbigh area for a period of more that 25 years.
Mathonwy was twenty years old when he struck out on his own competing in major Eisteddfodau, and won his first chair at Talysarn Eisteddfod with the poem 'Gwastadedd Meira' from the Old Testament. He won three chairs in that year and another when he was twenty two, before going on to win his first chair in the National Eisteddfod (the most prestigious prize in Welsh poetry).
He married in 1954 and won the chair at the Aberdare Eisteddfod in the year 1956. He started at seven in the morning in a van to bring the chair home
He published a number of important volumes and has certainly earned his place among the foremost writers of our land. It is a privilege to remember one of the lads of Dyffryn Nantlle.
by O.P Huws