Nebo Chapel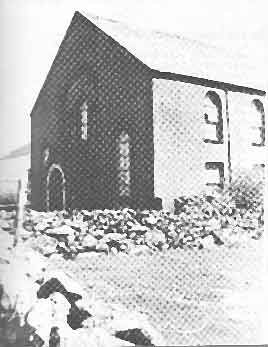 Although it appears that the mountainous area had a similar density of population to that of the lower part of the parish, it did not have a place of worship until the year 1826. But a Sunday School had been held in a small house called Tan y Fron since 1809. It then moved to the house of Catrin Salmon which was near Rhwng y Ddwy Afon. There, the Sunday School numbers increased, such that it was necessary to hold it in three houses. These were in the care of Robert Evans, Cil Llidiart; Hugh Hughes, Caerau and John Pritchard, Tirion Pelyn.
Image: Nebo Chapel.
The school ceased for a time when the Congregational chapel was built in Nasareth, but the school was restarted in Maes y Neuadd, and thence to a place called Pencraig, the home of John Michael (perhaps a relative of Michael Prisiart). The school was looked after by him and Gruffydd Williams Taleithin. It was moved once again to Taldrwst where it was under the care of Thomas Edwards (the householder), William Roberts, Buarth y Foty and William Roberts, Cae'r Engan.
In 1825, land was bought for five guineas by Hugh Robert Ismael, Glan y Gors as a place to build the school and on that site stands Nebo chapel (Capel Bach) today. The school-house was built by William Williams, Tan y Fron, in 1826.
The work was supervised by Owen Edwards, Coed Cae Du, and Evan Roberts, Dolwenith. The first building had an earth floor and wooden benches as seating. After the chapel was completed, those who were scattered were returned; that is to say the members of the Taldrwst Sunday School, and those who had gone to Nasareth and Llanllyfni. The first Steward was Richard Gruffydd, Pen yr Yrfa, but "Asiedydd" in "Cymru" said that Ellis Roberts of Pant yr Arian was the first. The first Catechists were John Williams, Pandyhen, and Hugh Williams, Pen Isa'r Lôn. The first Precentors were Richard Williams, Maes y Neuadd, and William Evans, Tal y Maes.
The first to preach in Capel Bach was John Williams, Llechieddior, on a Sunday afternoon in January 1827. After this, a church meeting was held under the leadership of one or two of the Llanllyfni deacons.
The number in the school in 1828 was 28. Ten years later, Mynydd Llanllyfni was placed in the same circuit as Talysarn.
Church status was conferred in 1843. This might have happened a year before were it not for the opposition from Llanllyfni because of the debt of £700 which that place owed.
The number in the church at its foundation was 36, but they continued to pay their monthly collection to Llanllyfni until 1846. This arrangement was made for the ministry.
It would be appropriate to list the prominent men in the history of the school and the cause at its beginning who are worthy of remembrance.
• Robert Williams, Tŷ Capel
• Hugh Jones, Blaen y Foel
• John Pritchard, Penpelin
• John Williams, Pant y Pistill
• Ellis Roberts, Pant yr Arian
• Williams Pritchard, Tŷ Cerrig
• Hugh Robert Ismael, Glan y Gors
• William Williams, Tan y Fron
• Thomas Jones, Glan Gors
• Robert Williams, Pen Mynydd
• Robert Gruffydd Bryn Person
• Morgan Jones, Tal y Maes
• Owen Morris
• Owen Ellis, Nasareth
• Dafydd Gruffydd Tŷ'r Capel (who was killed in one of the Nantlle Quarries)
• Williams Roberts Nant y Noddfa (who emigrated to America)
Undoubtedly many of the elders mentioned could only read a little, and it is said of Hugh Robert Ismael that he could not; but he derived so much pleasure listening to others that he would never be absent.
School numbers were about 64 at this time.
A comprehensive list of those who went from Llanllyfni to Nebo upon its establishment is to be found in "Hanes Methodistiaeth yn Arfon" by Rev. W Hobley.
Richard Roberts Bodychain and Richard Gruffydd Pen Mynydd were chosen as Deacons in 1844. They are likely to be the first two. The first to preach here after the church was established was a certain Moses Jones from Llyn who was paid two shillings.
List of Deacons:
• Robert Richards, Bodychain 1844
• Richard Gruffydd, Penmynydd
• Robert Williams Garreg Lwyd 1850
• William Jones, Nasareth 1856
• William Gruffydd, Bryn Bugeiliad 1859
• Gruffydd Jones, Tal y Mignedd 1870
• Dafydd Gruffydd, Llythyrdy
• Hugh Williams, Glan Gors 1873
• William Roberts, Tyddyn Hen
• Gruffydd W. Jones, Nasareth 1883
• David Roberts Maes y Neuadd
• John Edwards 1889
• T. H. Gruffydd ( Arfonydd)
• John Hughes, Bryn Ffynnon 1990
• Evan Jones (Ieuan Nebo)
• Owen Morris (Owain Meuric) 1914
• Edwin O Roberts, Nant Gwyddil