Nebo Mast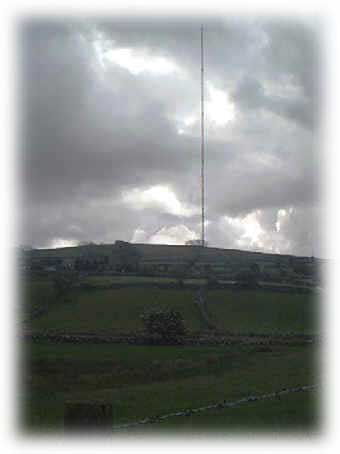 Nebo Mast (Arfon Transmitter) was erected in 1963 to provide ITV service in Llŷn, Eifionydd and coastal Ardudwy. In order to receive the signal sent from Preseli Mast in Pembrokeshire, and to broadcast over the mountains, it was necessary to have a mast 309 metres high (1,012 feet) set upon a hilltop 297 metres (971 feet) above sea level.
But since the addition of a new television transmitting antenna in March 2008, it is now 317 metres (1,041 ft) high. Therefore this is the highest structure in Wales.
The analogue television signals were turned off 18.11.2009. Now 16 television channels, 14 radio channels and 7 information channels are available.
Full details of the new Digital service may be found at www.digitaltelevision.gov.uk

.
It also relays the independent national radio station, Classic FM (100.7), and the local radio station, Heart FM / Champion FM (103.0), but no FM or AM BBC radio. DAB radio is also available through Digital One, the national digital radio network.
The owners of the un-manned transmitter are Arquiva.
Excellent pictures taken of and from the mast
»» http://tx.mb21.co.uk/gallery/arfon/index.php