George Fretwell
It was pay-day, Friday, outside a slate quarry at the Welsh-speaking village of Penygroes, North Wales, during the early days of the Spanish anti-fascist war. A man was auctioning a militia man's hat and a militia woman's scarf to raise money for ambulances for Spain.
The slate workers threw in the small change left in their opened pay- packets, but later the auctioneer to his surprise discovered two unopened packets which both moved and worried him because the workers' pay was so pitifully small. It was all the more remarkable because the area was noted for its Lloyd George liberal rather than socialist traditions.
The auctioneer was anti-fascist Douglas Hyde who had made several trips to raise money for the ambulance fund in villages and towns in mid- and north Wales. When he arrived in Penygroes he had been advised to go to the quarry to publicise a fund-raising meeting and the showing of Ivor Montagu's documentary film Defence of Madrid in the village hall that evening.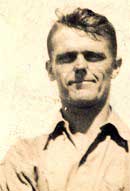 Image: George Fretwell.
That visit resulted in one young unemployed man from the village, George Fretwell, leaving for Spain - he did not tell his family where he was going, just asked his brother to look after his bicycle and disappeared: he wrote home from Paris and later from Plaza del Fargo, Spain. Nothing more was heard from him.
George was an ardent member of the Territorials with the rank of sergeant. He was one of three sons and a daughter. His father had had both his legs amputated in the First World War and his mother had a hard time bringing up the children on a small army pension.
Two months later on 12 February 1937 George was killed, aged twenty-six, in the bloody battle for Arganda Bridge, in the Jarama Valley - a crucial engagement to prevent the Franco forces cutting the road between Madrid and Valencia. He went into battle at 7 a.m. with over 600 members of the British Battalion; 12 hours later, fewer than 150 answered the roll-call. He was buried the next day with thirty other International Brigade volunteers in an olive grove.
Bill Rust, in his book 'Britons in Spain', explained how the badly armed volunteers, most of them facing their baptism of fire 'steadily held their positions for hour after hour, under a broiling sun while death rained down on them. To retreat, to run away would have been easy. But these men had left their homes to fight Fascism, and the order of the day was "hold out at all costs". They held out and kept the enemy back.
During these February days, the 12th, 13th and 14th, the Republican forces in the Arganda-Morata sector resisted the heaviest attacks of the entire battle of Jarama, and succeeded in bringing the fascist advance to a halt.' Madrid was consequently saved from fascism for another two years.


Image: George Fretwell's commemorative plaque.
It was only in the following year, 1938, that his family was told George was 'missing, believed killed'. But not until 1970 did they know precisely how and where he was killed, through fellow Welsh veteran International Brigader Glyn Evans, who had been with George in Spain. The following year as a result of a newspaper article about George, another veteran, George Magee of Cheshire, visited the family and told them he had been in the burial party.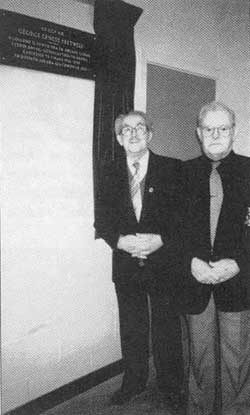 When in 1938 the news of his death reached Penygroes, the small village community was divided - some saw him as a hero and were proud that he had gone from their little community and died for Spain, but others, shocked by his death, were resentful that a young life had been thrown away.
Much time has passed to heal the wound and what in particular united the small community was the decision to launch an appeal fund for a memorial in Penygroes for George Fretwell - the idea came from people who had grown up with George and was discussed over a number of years by the Memorial Hall Committee. Eventually a sum of £207 was raised and the committee decided that a memorial in the form of a slate tablet and a slate clock be purchased.
On 7 January 1991 at a ceremony attended by over fifty people, including his brother Dafydd, the plaque was unveiled in the Memorial Hall. It carries the following inscription in Welsh: 'In memory of George Ernest Fretwell who lost his life whilst fighting with the International Brigade in the Spanish Civil War 1936-1939 at Jarama Valley 12th February 1937.'