Circular Walks around Nebo and Nasareth ~ Suggested Routes and Map
Places of Interest
Please click on the individual numbers on the map for further information about each location, or alternatively see the corresponding descriptions below.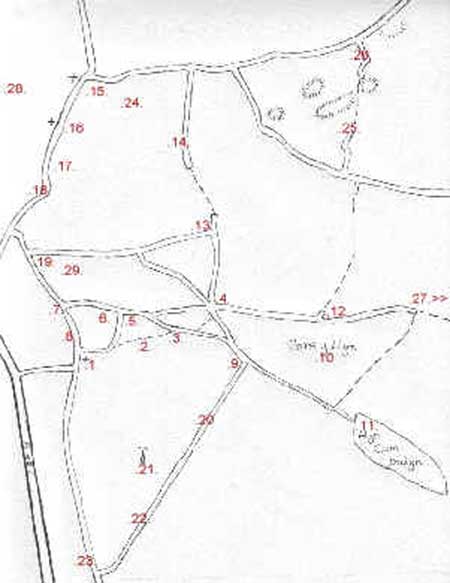 1. Capel Nasareth - Congregational (founded 1823, rebuilt 1867). Nasareth shop and Post Office.
2. Glanyrafon.
4. Nebo - School (opened 1873), Community Room, Old Post Office, Playing Field, site of Nebo Chapel (1861 -1981).
5. Mediaeval well - Listed by Gwynedd Archaeological Trust.
6. Hafod yr Esgob - Dr David Jones' house 1779 -1839 (Hen Ddoctor Mynydd) who published a famous herbal 'Llysielyfr Teuluaidd Jones Llanllyfni'.
7. Fine views to Dinas Dinlle, Anglesey, Llanddwyn Island and Holyhead.
8. Eisteddfa Isaf - Grade 2 listed cottage. Eisteddfa Rhedyw is nearby among Cerrig Mawr where, according to tradition, the Patron Saint of Llanllyfni Parish lived in the fourth century. Remains of the old sawmill may also be seen.
9. Pant y Gôg - ruin at the bottom of the steep slope leading to the mast.
10. Cors y Llyn - the last part of the common land, where residents would cut peat and graze their animals. A Site of Special Scientific Interest.
11. Llyn Cwm Dulyn - formed after the last Ice Age, it has been the reservoir for Dyffryn Nantlle since the 1880s. It is one of the lakes of Snowdonia where the arctic char is found, which has survived here since the Ice Age. On the northern slopes - Braich y Llyn - are two mediaeval 'summer dwellings', huts where shepherds stayed with their flocks from 1st May to 1st November.
12. Rhos-las - 'A patchwork of fields and scattered homesteads'. Many ruins as well as houses totally refurbished may be seen, where there was once a community of smallholders and quarrymen. The area became depopulated in the first half of the 20th century when the quarries closed. (Further reading on the Families of Rhoslas and the Smallholdings of Rhoslas is available.)
13. Pont Lloc - A standing stone may be seen in a field nearby.
14. Public Turbary Road - The main route used by Llanllyfni residents to take peat and wood from the Common. The early congregation of Methodists would meet in Buarthau farmhouse, between 1763 and 1812, but in an earlier period, local people would meet by custom in one of the fields each Sunday, and 'Gwen y Canu', the old witch, would come there to put her curse on those who attended this service!
15. Llanllyfni - Saint Rhedyw's Church (which dates back to the fourth c., The old village well, The Quarryman public house.
16. Llanllyfni School (1862) The Scotch Baptists Cemetery ('Bara Caws'). Salem Chapel (Presbyterian).
17. Gorffwysfa Cemetery, (Hendre Forion).
18. Old Turnpike - cross the new footbridge, site of the Roman Bridge destroyed in the great floods of 1935.
19. Capel Bach - the Methodists' first 'Schoolhouse' on Llanllyfni Mountain - built in 1826. It was established as a church in 1843.
20. Fine view north to Dyffryn Nantlle.
21. Nebo Mast - the Arfon radio and television mast - height 601 metres.
22. View to the south (Cardigan Bay) and west (Caernarfon Bay). Rare plants, animals and birds.
23. An area exceptionally rich in prehistoric remains - hut circles, Stone-age burial mounds, Iron Age farmsteads, etc.
24. Rhos yr Unman - according to legend, a host of Irishmen (Vikings from Dublin, more than likely) were seen encamped by Upper Nantlle Lake by a shepherd tending his flock on Braich y Llyn in Cwm Dulyn one summer long ago. He hurried for assistance from the army. It is said that the soldiers had dug some defensive trenches here. When the raiders approached, they were overwhelmed by the Welsh.
25. The Quarrymen's Road - past Glangors, birthplace of R. Sulyn Roberts writer and pioneer of the Workers Educational Association and home of the agricultural botanist and naturalist Dr R. Alun Roberts. In the distance may be seen the ruins of Bryn Llidiart, birth-place and dwelling of the poet Mathonwy Hughes, National Eisteddfod winner.
26. Tanyrallt, and some of Dyffryn Nantlle's Quarries.
27. The Path to Bwlch Cwm Dulyn / "The Miners Path" - led to the old manganese mine in the direction of Cwm Silyn, and to the old copper and lead mines in Cwm Pennant over Bwlch Cwm Dulyn. From this path "One hundred yards from the mountain-top", R. Williams Parry and two friends saw 'The Fox', immortalised in the sonnet.
28. Cae Du. The house of Henry Robert Parry, one of the most brilliant harpists of the period 'who was taught his craft by the Ancient Harpers of Wales'. His most famous pupil was Blind John Parry, born at Bryn Cynan in c1710, (Although there is a Bryn Cynan in Pontllyfni, his first patrons were the Griffiths family of the Cefn Amlwch Estate, Bryn Cynan, Nefyn. They bought him his first triple.) He became harpist to Sir Watkin Williams Wynn and later, to the Prince of Wales; his musical ability was greatly admired by the composer Handel and it was he also who inspired the English poet Thomas Grey when he wrote 'The Bard'. He died in Ruabon in 1782.
29. Pen Pelyn. In a house nearby dwelt 'Martha of Llanllyfni Mountain'. She claimed to be in contact with the 'Invisible Ones', but it was all deception.
Suggested Routes
4-12-4. A relatively easy walk, mostly flat.
1-2-3-4-5-6-7-8-1. Nebo and Nasareth circuit.
1-2-3-4-13-24-18-19-8-1. Walk around Foel y Rhiw.
1-6-5-4-13-14-15-16-17-18-19-7-8-1. Nebo, Nasareth and Llanllyfni circuit.
1-2-3-4-12-25-26-14-13-19-7-8-1. The Quarrymen's Route.
1-23-22-21-20-9-11-10-12-4-3-2-1. Walk around the mast.