The village of Aberdesach itself consists predominantly of 20th century buildings with a large proportion of these being second / holiday homes. A row of beach chalets extends north of the Mouth of the River Desach (after which the village is named) in the direction of Maen Dylan, one of a number of sites nearby mentioned in the Fourth Branch of the Mabinogion.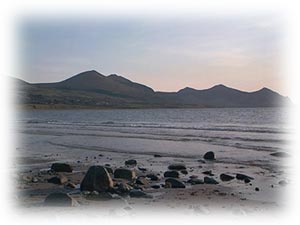 Pennarth Farm is in the vicinity - the Pennardd of the Mabinogion; more details about which can be found under the headings 'Cromlechi' and 'Llenyddiaeth Gymraeg Gynharaf' in the Clynnog Fawr History section of this website.
A number of substantially built farmhouses in the area testify to the dominance of the Glynllifon Estate in the development of the coastal strip during the past two centuries.
On Aberdesach beach, coal was formerly brought by ship and unloaded at Yr Iard. Not far from Tŷ'n y Coed there is a limekiln.
On the seashore between Aberdesach and Clynnog there were fishermens' cottages called Y Borth, but they have since collapsed and the sea has eroded the shoreline.
More information: