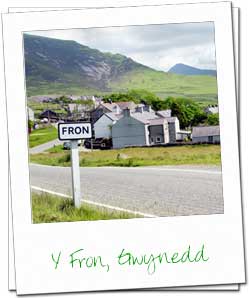 Y Fron is a mid 19th century ribbon development partly along the original road to Pen yr Orsedd Quarry (1809) and an industrial railway leading to Y Fron Quarry (1864).
The village is characterised by substantial shops and chapels and a variety of buildings illustrating the evolution of architecture from the vernacular tradition through to the 'industrial vernacular', yet without progressing beyond the intermittent ribbon pattern of settlement.
Capel y Fron is a substantial halo-arch chapel of the later 19th century and it is worth noting that Capel Bwlch y Llyn is a rare example of an architect-designed chapel built after the reformation of 1904, including a considerable amount of brick in the construction.
The village is known by some as Upper Llandwrog. The school here dates from the early 19th century.